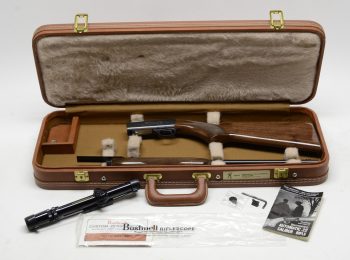 Browning SA-22. 22LR In Original Browning Fitted Luggage. DOM 1979
$995.95
Out of stock
Description
Browning SA-22. 22LR In Original Browning Fitted Luggage. DOM 1979
With Bushnell 3x-7x Custom .22 Scope. With BDC
In production for nearly a century, the SA-22 is unlike any other rimfire rifle on the market. Much more than "just a 22," the history of this fine rifle can be traced back to the mind of the gunmaker himself, John M. Browning, and is a lasting tribute to his genius.
The SA-22 is sure to become your favorite plinker and varmint rifle. It is lightweight and easy to carry on a squirrel hunt, and easy to load for a day of plinking at the range. Construction quality and materials are top notch to ensure longevity and lasting beauty. The fine Walnut stock is sharply Checkered and polished to a sheen.
The SA-22 ejects fired brass out the bottom of the receiver to make shooting a pleasure for right- and left-handed operators. Perhaps the most interesting feature is the ability to take the rifle down into two parts — the buttstock and receiver and the forearm and barrel — for storage or to simplify cleaning.
A popular upgrade for the SA-22 is to add the aluminum scope base and a scope. This combination makes shooting more accurate and more fun than ever. When the rifle is taken down, the base and optic stay with the barrel to help ensure zero is not affected.
    Receiver – Steel, Takedown design, Polished blued finish, Scroll Engraving
    Barrel – Polished blued finish, Drilled and tapped for scope mount
    Action – Autoloading, Bottom ejection, Tubular magazine, Crossbolt safety
    Stock – Gloss finish American Walnut, Checkered
    Features – Adjustable sights with gold bead front
SPECIFICATIONS
WEIGHT: 5.2 lbs
OVERALL LENGTH: 37 INCH
BBL: 19.25 INCH
11 ROUND TUBULAR MAGAZINE
CONSIGNMENT
PLEASE INSPECT YOUR NEW FIREARM FOLLOWING THESE CONDITIONS.
INSPECTION MUST BE DONE ON THE PREMISES OF THE RECEIVING FFL, ONLY.
DO NOT REMOVE THE FIREARM FROM RECEIVING FFL BEFORE INSPECTION IS COMPLETED AND FIREARM IS ACCEPTED.
WE PROVIDE A 3 DAY WINDOW TO COMPLETE A REASONABLE INSPECTION. INSPECTION BEGINS ON THE DATE OF DELIVERY TO THE RECEIVING FFL
ALL FIREARMS TAKEN IN AS CONSIGNMENTS AND SOLD AS CONSIGNMENTS ARE SOLD AS IS, WITH NO REFUND.
DO NOT DISASSEMBLE.
IF THE FIREARM IS DAMAGED DURING SHIPPING, PLEASE TAKE PHOTOS OF THE SHIPPING BOX AND DAMAGES. EMAIL NOTICE OF DAMAGES TO US WITH ATTACHED PHOTOS TO: customshopinc@aol.com AND CALL US AT: 406-375-5126
IF THE FIREARM IS DAMAGED DURING SHIPPING, NOT AS DESCRIBED IN OUR ADVERTISMENT, OR YOU'RE OTHERWISE UNSATISFIED, DO NOT COMPLETE TRANSFER. NOTIFY US AT: 406-375-5126. PROMPTLY RETURN THE ITEM TO US IN IT'S ORIGINAL PACKAGING TO:
CUSTOM SHOP LLC
169 S. 2ND STREET
HAMILTON, MT 59840
LEGAL DISCLAIMERS:
Buyer agrees to have any used firearm checked by a certified gunsmith prior to firing.
Buyer assumes all legality, liability and responsibility for the condition, use & security/storage of the firearm purchased.
It is your responsibility to ensure that a firearm is legal to own in your state.
Buyer certifies by purchasing a firearm from Custom Shop Inc. that he or she is legally qualified to purchase and own the firearm and that there are no state or local laws preventing ownership and owner will utilize a trigger lock to prevent accidents.
Buyer understands that all firearms are potentially dangerous if handled improperly.
As it is a matter of record that Custom Shop Inc. has no established testing facility, Custom Shop Inc. assumes no liability for the safe functioning of any firearm sold.
Buyer must be at least 18-21 years of age to purchase any firearm. Please check with your FFL / gun transfer dealer on age requirements in your state.
Upon purchase, buyer assumes all liability and responsibility including but not limited to the usage and safe storage of the purchased firearm.