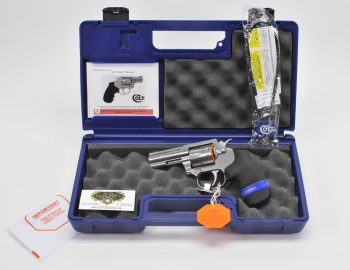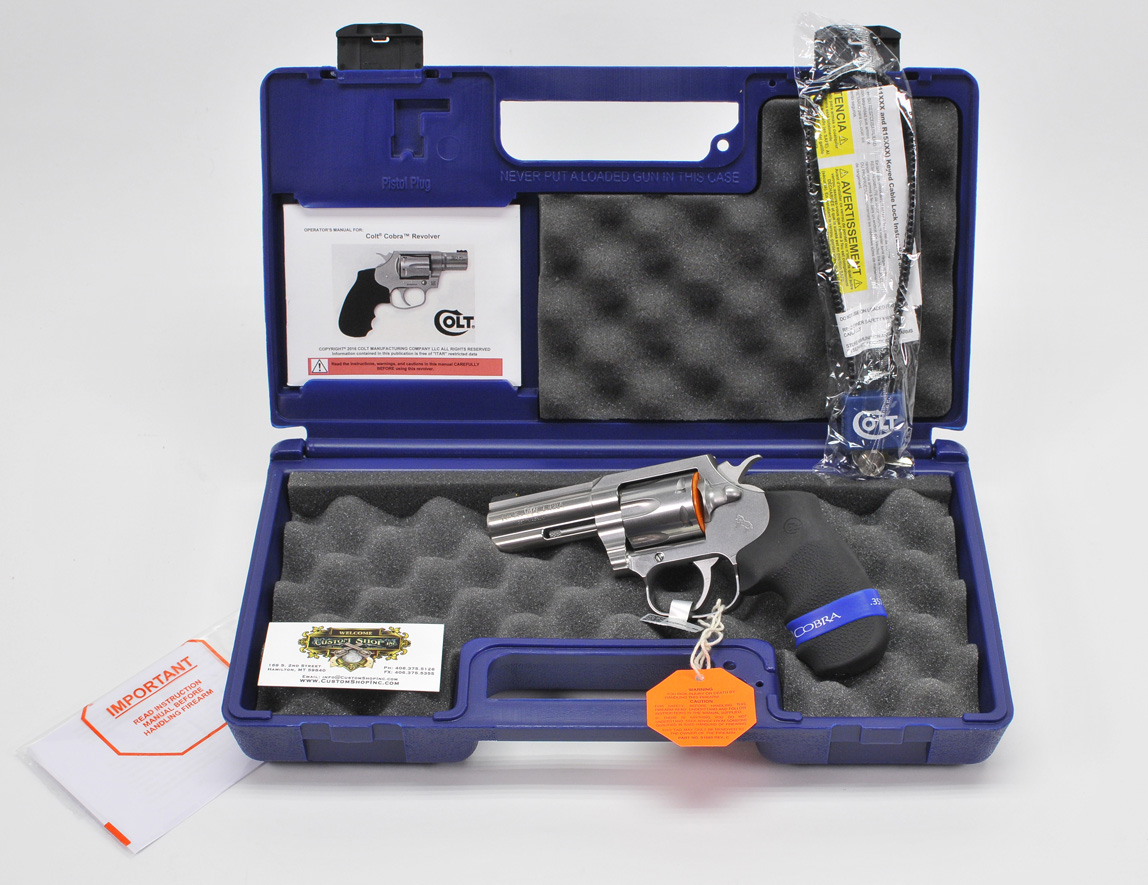 Colt King Cobra 357 3 Inch Factory New KCOBRA-SB3BB. BRAND NEW in Hard Case.
$899.00
In stock
Description
Colt King Cobra 357 Factory New KCOBRA-SB3BB. BRAND NEW in Hard Case
The King is back! Following the successful introduction of the Colt Cobra revolver in 2017, and marking Colt's re-entry into the category they once dominated, snake number two has arrived. Colt's King Cobra is reincarnated for 2019 as the 6-Shot .357 Magnum big brother of the Colt Cobra Double Action revolver. Sporting a heavy-duty frame, 3-inch barrel, and brushed stainless steel construction, the King Cobra secures a new place in the legendary heritage that makes Colt double-action revolvers some of the hottest collectible firearms today.
Features
Barrel Length: 3 in.
Capacity: 6 rounds
Sights: Brass Bead Front
Frame Material: Stainless Steel
Frame Finish: Brushed Stainless
Grips: Hogue Overmolded
Action: Double-Action
Factory Hard Case with Colt Paperwork and Lock
Weight: 28 oz.
https://colt.com/api.php?action=specsheet&product_id=395229&title=King%20Cobra%20(.357)
PLEASE INSPECT YOUR NEWLY PURCHASED FIREARM FOLLOWING THESE CONDITIONS:
INSPECTION MUST BE DONE ON THE PREMISES OF THE RECEIVING FFL, ONLY.
DO NOT REMOVE THE FIREARM FROM RECEIVING FFL BEFORE INSPECTION IS COMPLETED AND FIREARM IS ACCEPTED.
ALL FIREARMS TAKEN IN AS CONSIGNMENTS AND SOLD AS CONSIGNMENTS ARE SOLD AS IS, WITH NO REFUND.
WE PROVIDE A 3-DAY WINDOW ON NON-CONSIGNMENT FIREARMS, TO COMPLETE A REASONABLE INSPECTION. INSPECTION BEGINS ON THE DATE OF DELIVERY TO THE RECEIVING FFL.
DO NOT DISASSEMBLE.
IF THE FIREARM IS DAMAGED DURING SHIPPING, PLEASE TAKE PHOTOS OF THE SHIPPING BOX AND DAMAGES. EMAIL NOTICE OF DAMAGES TO US WITH ATTACHED PHOTOS TO: CUSTOMSHOPINC@AOL.COM AND CALL US AT: 406-375-5126.
IF THE FIREARM IS DAMAGED DURING SHIPPING OR NOT AS DESCRIBED IN OUR ADVERTISEMENT, DO NOT COMPLETE TRANSFER. NOTIFY US IMMEDIATELY AT: 406-375-5126. PROMPTLY RETURN THE ITEM TO US IN ITS ORIGINAL PACKAGING TO:
CUSTOM SHOP, INC.
169 S. 2ND STREET
HAMILTON, MT 59840
LEGAL DISCLAIMERS:
Buyer agrees to have any used firearm checked by a certified gunsmith prior to firing.
Buyer assumes all legality, liability and responsibility for the condition, use, and security/storage of the firearm purchased.
It is your responsibility to ensure that a firearm is legal to own in your state.
Buyer certifies by purchasing a firearm from Custom Shop, Inc. that he or she is legally qualified to purchase and own the firearm and that there are no state or local laws preventing ownership, and owner will utilize a trigger lock to prevent accidents.
Buyer understands that all firearms are potentially dangerous if handled improperly.
As it is a matter of record that Custom Shop, Inc. has no established testing facility, Custom Shop, Inc. assumes no liability for the safe functioning of any firearm sold.
Buyer must be at least 18-21 years of age to purchase any firearm. Please check with your FFL / gun transfer dealer on age requirements in your state.
Upon purchase, buyer assumes all liability and responsibility, including but not limited to, the usage and safe storage of the purchased firearm.