JONATHAN:  Colt 1908 Vest Pocket Hammerless Restoration   "I want to thank the entire team at Custom Shop for the magnificent restoration of my Colt 1908 Vest Pocket Hammerless pistol. Holding that pistol after the restoration, I truly get the feeling that my grandfather must have had the day he bought that gun.  I was concerned about losing the detail of the factory engraved lettering on the slide during the restoration process, but the results left all the engraving clear and looking like new. Great Job! That little pistol is a great example of functional design and very credible manufacturing skills, especially for the early 1900's, and Custom Shop's professional restoration skills preserved all of that simple elegance for many more years to come. Thank You!"
JONATHAN:  Colt 1903 Pocket Hammer Restoration   "Well HIGH FIVE on the work!  I'm completely impressed on how it looks and the work.  When I decided to have it done I called Colt and they told me they don't work on those that old anymore.  But was told they handed all that work and everything about the older firearms to you guys.  I really didn't hesitate about it and started getting things going right then.  The trust was already there because Colt sent me.  After you guys had received it that's when I finally went and checked all the before and after pics and read all the testimonies about all the work, that's when I knew it was really in good hands.  This was my conceal carry of choice but now as I'm writing this I'm like how am I going to do this?  I know I'll be holding off on that for a while.  This thing is beautiful!!  I will be coming back because I have a few more I want done to.  The word will be going out about you guys and y'all's work and the awesome women I've had the pleasure in working with also.  Very nice work buddies! Thank you for making this a memorable experience.  Beautiful Colt!!"
RAMI:  Colt Python Restoration   "Are you sure you worked on the gun?!  I think you guys gave me a brand new gun and switched serial numbers! "Just kidding".  That's what my Python looks like; the finish on this gun amazing.  Attention to detail is phenomenal and customer service is top notch!  I want to thank each and every person who worked on this gun or helped me with answering questions.  Custom Shop, Inc. – you ROCK!"
BOB:  Rifle Bolt Jeweling   "Received the bolt today and it is FANTASTIC.  I may not put it into the long gun…..considering framing it.  Nah…it will go into the rifle.   The bolt is just incredible.  Thanks so much."
WILL:  Colt Government Model MKIV and Colt SAA Nickel Restoration   "Just wanted to let you know the guns are beautiful.  You guys did a great job on them.  I've got display cases for them and they are stunning.  My wife isn't really in to guns, but even she said, "Wow, those are beautiful".  Tell Lou thanks for suggesting doing the hammer and trigger on the 1911 a brushed finish.  Really set it off.  A very satisfied customer!"
CHRIS:  Website Purchase Experience   "I picked up my Python from my FFL yesterday afternoon and overall, I am very pleased with my purchase.  Thank you for a smooth transaction and a nice addition to my collection!"
TRAVIS:  Colt Python Repair & Restoration   "I just wanted to say that the work on my Python exceeded my expectations.  Absolutely perfect – impressive attention to detail – and surprisingly fast.  Thank You!"
RAFAEL:  Sako Vixen Rifle Restoration   "I really have a difficult time putting into words the satisfaction I received when I opened the box containing my restored Sako Mod. Vixen L-461. But I am going to try anyway.  I bought this gun about 6 years ago and it was in good condition when I bought it.  But it definitely was in need of some custom work and one particular detail of the gun was its wood stock, which was made of a nice raw piece of Bastogne Walnut.  So, my search for a local gunsmiths company to turn the rifle in for restoration and finish started immediately.  I thought I found the right company in Ruskin, FL., but it ended up taking them several months to finally ruin the beautiful piece of wood this rifle had.  So, I started another search for a new wood stock.  This time I decided to look for the original wood stock from the factory if that was going to be at all possible.  It was almost another episode of Mission Impossible; until I found the place: Custom Shop, Inc., in Hamilton, Montana.  When I first opened the page containing the image of the stock, my first thought was as if I have finally had all Rifle Gods on my side.  I was contemplating a beautiful and possibly the original Wood Stock for my rifle.  I could not believe it took me more than 6 years to finally find it.  All pictures of the stock were crispy clear, and I could even see colorful details that only made me appreciate the natural and authentic beauty of this piece of tree.  My heart started beating fast when I started thinking that it might just be an on-site error of the Shop and that the stock would not be available.  But no, it was pretty much my error to even think that way.  It was available and without taking another breath of air, I peeled the plastic and minutes after I received a UPS Notification alerting me of the shipment.  About 10 or 15 minutes after the notification, I thought it would be a good idea to send the action to Montana and have it restored to its original beauty.  In other words, fitting the new stock, bluing the metal, installing missing iron sight, polishing the bolt, engraving the floorplate and trigger guard, and a few other items. But first, I thought it would be a good idea to call the shop to explain to them what I wanted to have done on this gun.  Louie Tuminaro picked up the call and without hesitation, answered all my questions and concerns regarding this project.  In particular, about a very small detail (little chip) on the foreend of the stock.  Then Louie promised to restore the gun to 100% of total and complete satisfaction.  Naturally, I was still remembering my last experience with the Ruskin Gunsmith Clowns that ruined the stock and that made me skeptical.  Man was I ever wrong, as I found out later.  I can't begin to tell you all how satisfied I am about how my gun turned out.  Truly an exceptional piece.  And the cherry of the cake: Customer Service and Packaging.  One of my primary concerns with this project was the length of time of the restoration work and the subsequent shipping back of the gun to my home state; considering that I already had a bad experience with bad packaging from a Gun Manufacturer, along with poor handling by UPS personnel.  Custom Shop, Inc., made sure my gun was securely packaged and shipped.  I received it without issues and noticed a large note on the box: "To Be Open by Owner Only".  The rifle was wrapped in airtight sealed hard plastic inside yet another rifle cloth/felt material sleeve, and placed inside a hard gun case to finally end up in a cardboard box.  I don't want to describe the artistic work done with the tape on the box, because you may think I am exaggerating.  If you have a gun in need of some work, DO NOT waste your time or even consider another place other than Custom Shop, Inc., to have your work done.  If you ask me, the Craftsmanship performed in my gun speaks for itself.  The wood, the metal work and the Customer Service of Custom Shop, Inc., is proof that there are still exceptional gunsmiths out there doing their finest work.  Louie and his team are one of them.  My gratitude to all team members of Custom Shop, Inc., especially to Louie, John and Theresa, who were able to pull through the horrific health crisis brought to all of us by the COVID-19 virus and yet, they managed to fulfill the commitments made with their customers.  Thank you all!!!"
JEFF:  Browning Medallion Restoration   "I received the Browning BelgiIum .264 the other day.  It is beautiful!  Thank you for the wonderful work and attention to detail.  The gun has been in my family since the early 70's…. I remember my dad using that gun since I was a kid.  The shipping and packing was top notch and it is evident you take great pride in your work.  I can't wait to use it this year and it will be in our family now for the duration.  Thanks again for the excellent work, clear communication and attention to detail."
BOB:  Rifle Bolt Jeweling   "Received the bolt today and it looks fantastic. Great job!  Thanks again for a terrific job."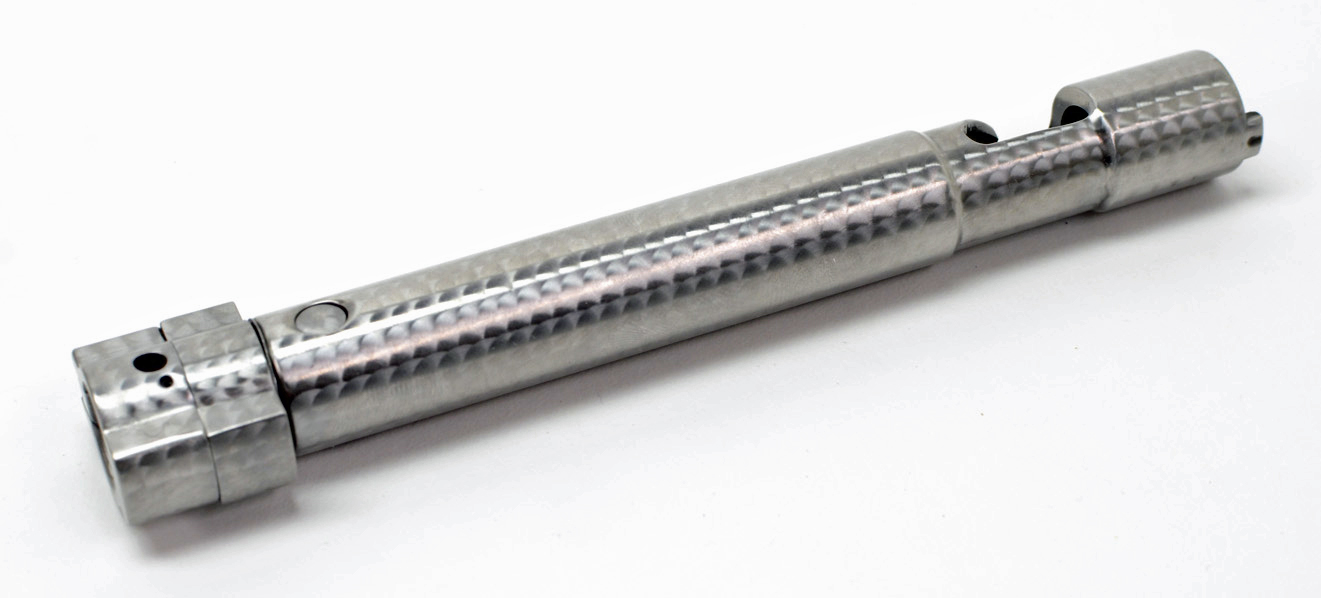 BOB:  Colt Detective Special Restoration   "To John, Louie, & the entire team at Custom Shop, Inc.  Today, I received back my 1974 Colt Detective Special 3rd Generation.  After looking it over, as I told John by phone, "I had to put it down because I was afraid I was going to cry all over it."  Quick backstory.  I have already had this revolver restored once by Colt.  I bought it as a shooter & had some expendable cash & decided to have it restored.  At the time Colt was still doing this so I sent it off to them.  When I got it back from Colt I thought it looked amazing to the point I never shot it.  Due to clumsiness on my part, I inadvertently scratched the muzzle almost into the crown.  I couldn't stand looking at the scratch anymore.  It became necessary to refinish the revolver again.  I contacted Colt & they referred me to Custom Shop, Inc.  I called & spoke with Louie.  I explained the situation & he was confident that a successful repair & restoration could be accomplished.  I packed up my revolver & sent it for a vacation at a beauty spa in Montana.  I received a phone call letting me know that the package had arrived & they would be in touch with an estimate.  The following day I had my estimate.  After going over it myself for a general understanding, I called Louie & together we went over the estimate in greater detail.  I was happy with what they offered & I gave my OK for the restoration to take place.  In short order, I received a call from John that the restoration had been completed.  I made my payment arrangements & the gun was on the way home after enjoying its stay at the beauty spa in MT.  I became like a kid waiting for Xmas morning.  However instead of NORAD tracking Santa, I was tracking UPS.  The wait seemed endless.  When the package arrived it was with a great deal of anticipation that I began opening the shipping box & packing materials.  The gun is shipped in a plastic bag to protect it.  Upon arrive you need to open the bag & let it breath for a bit to make sure there is no condensation.  Looking thru the bag I was awestruck.  After sufficient time I removed the revolver from the plastic bag.  As part of your Thank You for your business gift pack, you will receive cotton gloves and a microfiber cloth.  The only way I can correctly describe what I saw is the finish looked wet.  I had always heard about Colt's Royal Blue finish. I have a Python but it's stainless.  When I got the gun back from Colt when they restored it I thought it couldn't be beat.  Man oh man was I wrong.  I could clearly see how much more superior Custom Shop, Inc.'s restoration work was over Colt itself.  The first thing I looked at was the muzzle for the scratch.  What scratch?  Don't know what you are talking about.  No scratch here.  The entire gun is a top notch job from start to finish.  Now I can say that I know what Colt's Royal Blue finish looks like.  As I told John, "If the side plate was bigger I could shave in it."  Also included is a COA certifying that your firearm was restored to Colt's Standards.  I can't say enough good things about my experience with the entire team at Custom Shop, Inc.  Excellent Customer Service.  Their gunsmiths are second to none.  The turnaround time is fantastic!  Just an outstanding experience start to finish.  Look no further than Custom Shop, Inc., for any type of firearm restoration or repair."
WILLIAM:  Colt Government Model MKIV Series 70 Nickel Restoration   "You recently performed an extensive finish restoration on my Colt Series 70 bright nickel 1911 and I just received the prized pistol.  The gun looks magnificent and your work exceeded all of my expectations.  You and your team are to be commended on such fine professionalism, craftsmanship and pride in your work.  Your hard work and dedication to customer satisfaction truly sets the bar for all other service-type enterprises to follow.  I cannot say enough (great things) about your team.  Colt was spot on by referring you to me for this unique work.  As testimony, I have now sent you a second project to solidify my satisfaction as only a loyal repeat customer can attest."
JOHN:  Website Purchase Experience   "I received my rifle today.  I wanted to let you know that it is exactly as advertised.  Very very nice rifle, thanks much!"
COLTON:  Colt Python Restoration   "Just received my beautifully restored Colt Python from my FFL. I am more than impressed with your shops quality and attention to detail and will definitely be spreading the word about the high caliber of your business.  From customer service to the final reception and care of packaging truly speak volumes of your love of the craft.  My pistol looks better than new!  Wish I could buy you all a drink!"
DENNIS:  Website Purchase Experience   "I really like the Winchester Model 54 I purchased from Custom Shop, Inc.  It arrived in great shape…due to the great packing job your team did.  I have an extensive collection of handguns and long guns and I have never seen a better, more professional job in protecting a rifle during shipment.  Thanks for your attention to detail!"
FRANK:  Colt MK IV Officers Model Restoration  "You guys have restored my Trooper Mark III and I cannot describe how pleased I am.  The quality of the finished product is outstanding and for sure it's far superior to all others.  This includes not only the firearm's exterior, but also the screws and even the final packaging.  For certain I would highly recommend you guys to all of my friends and family.  I appreciate so much the hard work and dedication you all put into your work and I'm proud to own a firearm that has been through your shop.  Thank you all so much for all you've done for me."
CHARLIE:  Colt Trooper MK III Restoration  "I would just like to thank everyone at the Custom Shop, Inc., for the beautiful restoration of my Colt MKIV/Series 70.  It looks better than the day I purchased it 40 years ago.  The professionalism and quality of the work show that everyone at the Custom Shop take pride in the craftsmanship and knowledge they give to their customers.  Thanks again!"
RICK:  Colt Pythons Repair   "Received both my Pythons today.  I'm very pleased with the quality of the trigger work you folks did.  When I cocked and released the 2.5 inch Python, I thought, "Wow. These guys know what they're doing."  Thanks!"
MARK:  Colt Woodsman Match Target Restoration   "Received my Colt Bullseye Match Target.  This is my third project with your company and I have not been disappointed with any.  Simply amazing work on all projects!  Looking forward to our next one.  Thanks again!"
AL:  Colt Python Restoration   "Restoration of my 1969 Colt Python was done recently and the results were far more than I hoped for.  Custom Shop, Inc., completely got rid of the rust I found on my gun.  It was re-blued and they went over all the mechanical specs and the gun came back like it was purchased in 1969 right out of the box.  The staff, John, Lou and Theresa, were so helpful and answered all my questions.  They kept me informed throughout the whole process.  I found Custom Shop thru Colt Firearms and I am glad I took the recommendation.  I could not be more pleased with the results.  Thank you very much and I will be back with other restorations."
JASON:  Colt Python Bright Stainless to Satin Stainless Restoration   "I want to personally thank you for the absolutely tremendous job you and your team did on my Colt Python.  It exceeded my expectations and just looks beautiful.  My only dilemma now is not wanting to shoot it.  I'm sure I'll manage.  I was thoroughly impressed with the assessment and letters you provided.  Even the gloves and towel were a special touch.  Thanks again.  I wouldn't hesitate to send you any of my firearms in the future."
JIM:  Colt Python Restoration   " I'm very impressed with the work and the very timely fashion!!  Below is a posting I placed on LinkedIn and I also contacted the Colt Custom Shop manager Patrick, which I'm connected to!!!  Next year, my other one will be coming your way !! Thank You."
"I just had the pleasure of having a Colt Python restored by Custom Shop, Inc.!!  Some might ask why not Colt, when I contacted them I was informed that they no longer service the legacy revolvers.  Upon searching for someone to do the work I happened upon Custom Shop, Inc.  Doing my due diligence, they are a Colt Repair Center and they breathe Python's!!!  After 3 weeks' time, I have a beautifully restored 4" Royal blued Python!!!  The finish is like a mirror with all lettering and the iconic Colt Horse in crisp detail!!  So to my LinkedIn family, the firearm side, or anyone who appreciates the classics and awesome craftsmanship – I wholeheartedly endorse this company!!!!"
DANE:  Colt Python Nickel Restoration   "We'll probably never meet, so don't take this the wrong way and certainly nothing against Colt, in my uneducated opinion, I know it's been a very long time since it was new, for some crazy reason, I think this Python looks better than the day it was born!!  Again, you may be chatting with the village idiot, but holy freak'n mackerel, I can't even tell it was redone – it looks factory!!  Incidentally, if I forgot to mention, stink'n dang outstanding job!!  Thank You."
JIMMIE:  Colt Detective Special Nickel Restoration   "I have received my Colt Detective Special and it looks absolutely beautiful.  Just like the day I purchased it 43 years ago.  I praise the quality work you and your staff have mastered.  I will highly recommend you and consider additional work in the future.  Thanks."
JIM:  Colt SAA Restoration   "Received the Colt this morning.  I am very impressed.  Considering the condition the gun was in, you did a wonderful job in restoring my Colt to factory standards. Beautiful case coloring and bluing.  Thanks for the care you took in the restoration work.  The extras like the handling gloves, towel, etc is a great touch."
BRYAN:  Colt Python Restoration   "I received my Python back yesterday.  Amazing work you did, it's beautiful.  Before sending it to you I tossed the thought around of just using it as a carry around piece in a holster, but I am glad I found your shop and had it restored.  Thanks again!"
DAVID:  Colt 1903 Pocket Hammerless Restoration   "The restoration on my 1903 colt is AMAZING!  I doubt if it came from the factory new looking as good.  I've been showing it off to my friends and they can't believe it's the same firearm.  Letting the two notches on the slide convinced them it was. So again THANK YOU for a wonderful job.  I knew if you were being recommended by Colt you were the folks for the job.  If ever I can or you need to use me as a reference I'm in."
JOHN:  Colt Python Nickel Restoration   "Picked up my Python Friday.  It is awesome.  A 40 year old gun that looks like the day it was made, if not better.  Great job."
OCTAVIO:  Colt Python Repair & Restoration   "I just received my restored Colt Python today and I am speechless!  Although it is 40 years old, it now looks brand new!  The work that you performed on it is beyond superb.  I can tell that you all take great pride in your work and are professionals.  The craftsmanship of your company excels in every way with incredible attention to every detail.  I am extremely happy with the restoration and will definitely recommend Custom Shop, Inc., to everyone.  I would also like to mention your excellent customer service, responsiveness and friendliness at each stage of the process.  You all deserve the highest recognition all around.  What a great team and company.  THANK YOU and glad that I found you guys!
NATHAN:  Colt Python Restoration   "My Python looks and feels outstanding. The gun looks new! Custom Shop was very friendly through the whole restoration process and got my Python back to me very fast. I shot it yesterday and it just puts a smile on my face like nothing else. When I look at it, It's like having a nice old muscle car in your garage, I just can't stop staring. I see why Colt sent me to Custom Shop Inc."
"After I had sent this initial feedback, I stopped by my local gun store on my way to the range so I could show one of the employees my Python. He was the one who had previously owned it and put it on consignment. He was so impressed by the work you did that he asked me on the spot what I wanted for it and sort of pressed me a little. I had to decline the offer but I happily told him about Custom Shop, Inc."
STEVE:  Colt Diamondback and Colt Python Restoration   "Received the two guns you restored for me today, (6″ PYThON )–( 4″ DIAMONDBACK ) they are beyond beautiful. You guys there are the greatest. Amazing work. They are brand new looking, just like the other ones you have done for us. You take pride in your WORK for sure. You will be highly recommended to all my hunting buddies. The only bad part is I will never want to shoot them, Money in the bank. Thanks again. Will be doing more business with you in the future for sure!"
GARIN:  Colt Python Restoration   "I received the Colt and am more than pleased with the final result. Thank you for the great customer service and the attention to detail."
JOEL:  Colt Python Repair & Nickel Restoration   "I received my 1972 Python back today. When I sent it out to you, I honestly took it for granted that I would pay a ton of money and get a decent finish, put the gun away and that would be that. To my pleasure and surprise, not only did you guys keep in touch with me through each stage of the work but helped me decide what I might restore and what I might let go. I decided to restore whatever was needed. Once you explained the process, there was no doubt that given the go ahead you guys would not only restore the gun to Colts specs but I am pretty sure it looks better than when it came out of the shop 47 years ago! I could not be more pleased. This gun was something I have wanted for years and years and was one of those gifts to myself that you just say, "I want it, I work hard and if I don't do it for myself, I'll never get it!" So here it is! I am extremely happy and have already given your contact info to 3 people! Thanks for the great work!"
TOM:  Colt Python Repair & Restoration   "I wanted to wait to send you feedback until I had a chance to shoot it. When I picked it up, the FFL had the box sitting unopened in a back room. He brought me behind the counter and let me have at it. He was extremely impressed with the quality of the restoration. He said sometimes the Colt symbol isn't as visible and sometimes edges that should stay sharp get rounded. He immediately asked me if he could have one of the business cards you included as a reference for his customers so they would know there is a high-end gun restoration facility they could entrust their prized possessions to be serviced. I took the gun to my club and had the revolver enthusiast inspect it. They all gave it a 10 out of 10. Lastly today my wife and I got to shoot it. I took a little time to dial in the sight. A tweak up and to the left and it was perfect. I included a photo of the target which includes the tuning shots. Once I had it dialed in she was extremely accurate and super smooth to shoot. I'm sure the old crew from the Colt Custom Shop who made these revolvers would be proud of the wonderful restoration work your team is doing so that future generations can know what it's like to hold a legend in their hands."
SCOTT:  Colt Python Restoration   "Picked up the Python today at my regular gun shop where I had it shipped. Thank you, excellent work. It's not often you see a single gun "shut down" a large gun store. Met with the owner to transfer my restored Colt Python, opened the shipping container, and his first words were "Whoa, look at that Colt Royal Blue bluing" A nearby employee stopped what he was doing, came over to look at the Python. By the time I completed the paperwork, all ten store employees on shift plus every customer in the store was gathered in a semicircle around the counter where the Python lie. Thanks!"
MICHAEL:  Colt 1911 Government Model Repair & Restoration   "I received my restored, 1994 Colt 1911 Govt. Model Mark IV Series 80 380 ACP today, and was absolutely astounded. The quality and craftsmanship of this restoration, in my personal opinion shows while you're one of the best antique gunsmiths, restoration specialists in the nation. I will be personally utilizing your establishment for any future restoration projects I may require. I will also be an avid referral to any other patrons, who require your absolute professional expertise. I wish to extend my gratitude, and complement you in stating that this platform never looked this absolutely perfect, since I purchase it new in 1994. At this time I can honestly say this is one of the best investments, I've made since starting my own firearms business. To add to the high level of standards in restoring this platform, is the additional complementary, authentically documented, and professionally annotated restoration certification by the Custom Shop, to show the quality of your antique restoration process. Thank you very much."
NATHAN:  Colt Python Restoration   "I received my Python today and I honestly could not contain myself; it's more beautiful than I imagined. I still have the biggest smile on my face. I can't believe it's the same gun. Thank you all so much from the bottom of my heart. I also have been calling everybody I know praising your shop and telling them to send their restoration business to y'all. Thank you so much."
ALFIE:  Colt MK IV Officers Model Restoration  "John what can I say my friend I can not thank you and your entire staff on the beautiful restoration work you and your crew have done on all of toys that I have sent in for complete restorations. The workmanship is spot on with Colt specifications and this last restoration was no different. My 1911 Officers Model looked perfect! I ordered some gorgeous Woolly Mammoth ivory grips. I will definitely be returning for another firearm restoration. Gracias & God Bless."
DAVID:  Colt SAA Engraving & Nickeling Restoration   "The work you did on my Colt is excellent! The craftsmanship exceeded my expectation. Thank you for your help in creating a heirloom for my grandchildren."
DAVE:  Colt Python Restoration   "It looks fantastic as I knew it would. It's gorgeous! I know a few good restoration shops, but you guys are in a class of your own. I will soon be sending you a 2 ½ inch Python & a Detective Spec. that both need to be re-blued, so keep an eye out for them. If your interested send me a couple business cards with my next return & I will put them on my table next to your work. Thanks again, and once again GREAT JOB!!"
FRANK:  Walther P38, Colt Ace, and Colt Trooper Restoration   "The guns arrived from your restoration and I am so pleased with the work, perfection, and professionalism your company showed during this experience. I will definitely enjoy them for the rest of my life. I thank You very much and look forward to dealing with you again."
DON:  Colt Python Cylinder Nickel Restoration   "Just received the cylinder – marvelous work as usual! Thank you very much!"
BRIAN:  Colt Python Repair & Restoration   "Picked it up today and it looks GREAT!!!!!!!! Better than I expected, you and your crew do a great job. I am really pleased with the results. Very impressive work, you guys are better than great. THANKS TO THE WHOLE GANG. I will recommend you highly for your craftsmanship."
ROBERT:  Website Purchase Experience   "I just picked up both 404 and 7×57 rifles. I could not be more pleased with both rifles, I thank you. I will keep an eye on your website for any other guns I would buy in the future. Once again thank you."
ROBERT:  Colt Python Repair & Restoration   "I received my Colt Python today. Let me say Custom Shop, Inc., did an excellent cylinder repair/restoration. It reflects true workmanship performed by your shop. I am extremely pleased with the work done on my nickel python. I highly recommend the custom shop for any firearms needs. It was a pleasure doing business with John Williams and the staff of the Custom Shop. Thanks again."
TIM:  Sako Forester Restoration  "Today I received the Sako 22-250 you built for me. I'm blown away over how great it looks. I bought the blank from your pix on line. It looks about 50% better in person than it did in the pix. Fabulous grain, excellent workmanship on the stock. I don't think there is a better looking Sako out there. It looks BETTER than the pix you have of it on your website! This is easily the best looking rifle I own. Thank you for a great job!"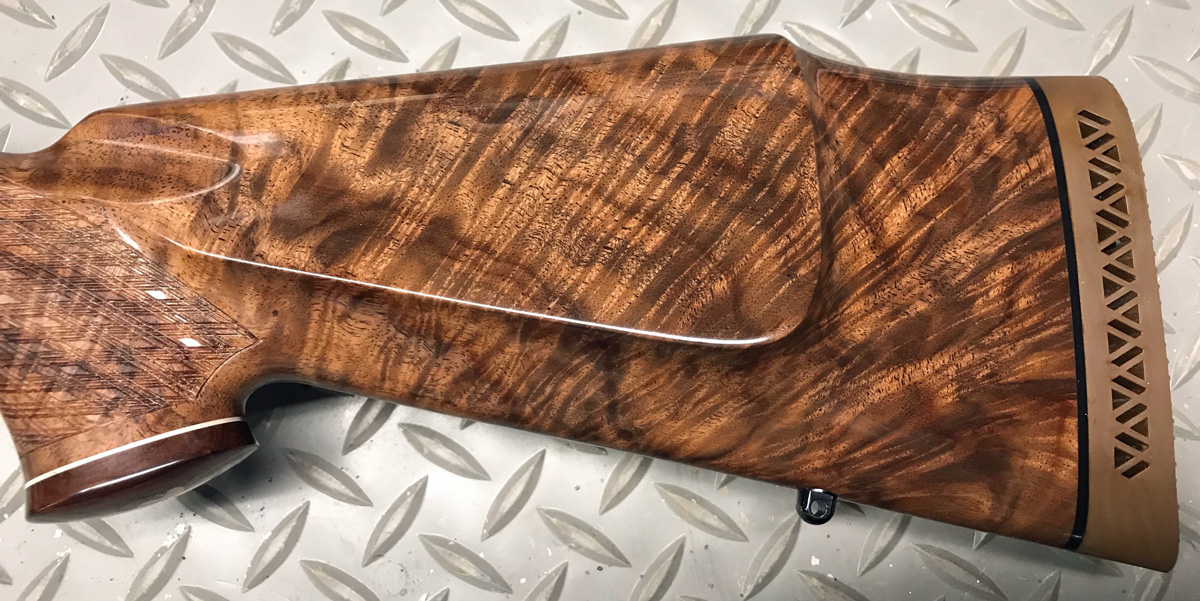 ALFREDO:  Smith & Wesson 39-2 Restoration  "I just want to thank Mr. John Williams and the entire Custom Shop Staff for an excellent job you guys did on the full restoration of my Illinois State Police, Smith and Wesson Model 39-2 Service weapon. I was amazed on the workmanship that went into the restoration process. Thank you again and that's why I am a 3-peat customer. I always recommend you guys to all of friends at our local gun range. The 'Wow Factor' is definitely there. Gracias John."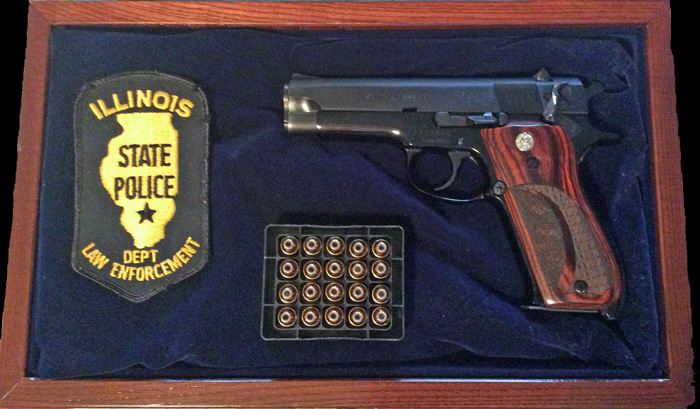 CLIFF:  Website Purchase Experience   "I just recently purchased a Browning Auto-5 from you and just astounded the perfect condition the gun is in, your online photos didn't do it any justice but knew if the gun looked that good in the pics then in person it would be better and words can't express how happy I am with the firearm. I look forward to doing more business with you in the near future, I have my eyes on a few of your Winchester 94's. Again thanks for your quality of firearms you sale."
BRYAN:  Colt Anaconda Repair & Restoration   "I received my Anaconda this evening. It is beautiful! You did a very good job on it. I am very pleased. I can't wait to see it in the daylight. And, I can really see the barrel forcing cone erosion in the old barrel. Didn't know what that was before, but it obviously was a big part of the problem with throwing lead back in my face. I'm so glad it is been repaired and restored by your team of professionals. I'm torn now as to whether to shoot it or keep it in pristine condition. I'll get over it eventually and enjoy shooting it again I'm sure."
CARLOS:  Colt 1908 Vest Pocket Repair & Restoration   "I am Totally Happy with the work performed on my Pistol. You Guys went beyond my expectations. Thank You! I will be sure to have dealings with you in the future for my restoration and repair needs. I am also recommending you to my Friends and Family. Again,Thank You!!!"
JUNICHI:  Colt Diamondback Restoration   "First, let me thank you and your master gunsmith for doing amazing restoration work for my Colt Diamondback. Simply put, it's "perfect"! It's much more than what I was expecting. It's better than factory new condition. Also, I very much appreciate the certification documents you provided. They provide valuable proof that this restoration was done by true Colt certified technicians/artists."
DAVE:  Colt Python Restoration   "I normally never write reviews. In fact it is usually a good thing when businesses don't hear back from me because it usually means I'm satisfied with whatever services were provided. However, I wanted to reach out and thank Custom Shop, Inc., for the excellent restoration you guys did on my Python. My father and I were blown away when we saw the gun after restoration. As an Aerospace Engineer by profession part of my job is to thoroughly inspect and evaluate parts, processes and workmanship to some pretty rigorous standards. So I can be very critical when it comes to services like this and in one of the rare cases my expectations were exceeded with this Python restoration. Great Job! I can't begin to tell you how happy I am. I finally have an heirloom quality Python I can pass down to my son. Thank you Custom Shop!
RODNEY:  Smith & Wesson Model 41 Restoration   "Louie, John, and all the staff at Custom Shop Inc., I would like to thank you for the beautiful restoration job that was done on my Smith&Wesson, model 41. I don't think it looked that good 40+ years ago when I bought it. I could go on and on about what a fine job you guys did, but most important to me was the customer service I received. When I contacted Custom Shop Inc., it was via email. That very same day I received a call back from Louie, and he had a story to tell about his fathers Smith&Wesson, model 41. We swapped story's for a good 20 minutes and by the end of our conversation I knew this was the company I wanted doing the restoration on my gun. The pistol will remain in my family and pass to my son, then down to my grandson, and my new great grandson, and who knows maybe you'll get the chance to restore it again in 40 years. Thank again for a great job!"
JONATHAN:  Colt Python Nickel Restoration   "I just received my colt python restoration – it's absolutely beautiful! I am truly amazed at the workmanship and the presentation. I'm very impressed on the way it was packaged and shipped. The paperwork of certification is absolutely beautiful
If I need any work in the future, I definitely will be contacting your company."
DAVE:  Colt Python Restoration   "I received my Colt Python. The work Custom Shop did is awesome and I cannot thank you enough for an excellent job and the excellent service throughout this process. I am extremely happy with the way it turned out and want you to know that this piece will become an heirloom for my family for years to come. Thanks again!"
LOU:  Colt MKIV 380 Auto Nickel Restoration   "I have been waiting to receive the return of the firearm listed above and today it arrived. I could tell right away based on the packaging alone that professionals were in all positions of this organization. I took extreme care opening the package however I would have like to just tear it open to see inside but I waited. When I opened the case and gazed at the firearm before me I was glad I was sitting down. I could not believe what my eyes were telling me! The Absolute Perfection & Workmanship was Staggering and to top that off I noticed a set of white gloves in the package and needless to say man that is pure 100% class ! This Colt firearm is like it's brand new there are NO exceptions. The quality is truly amazing. I can understand why the Colt Organization chose your company for restoration of their firearms. John, Please give my heart felt thanks to your team. The accompany documents was very nice touch as well ! John, Well Done !!"
JOEL:  Colt Diamondback 38 Special and Colt Diamondback 22 LR Repair & Restoration   "Your restoration on my 2 Colt Diamondback Revolvers is PERFECT! However, I now have 2 brand new Colt Diamondback revolvers. The only problem…they're so beautiful they go in the safe, waiting for the next person to take care of them after I go! Your work is without comparison. I no longer have to worry about shooting my "shooter" Colts: if I can't fix them, and they're worth fixing, they go to you.  Your customer service maybe the best part of dealing with Colt Custom Inc. It made all the difference in the world that you called me, out of the blue, to update me on how work was progressing. That meant everything to me, even though I never had any concerns. The presentation and delivery was top notch. I love having the NOTARIZED restoration certificate. It goes in the box, right next to the pistol.  It was fantastic that you quoted me a price, stuck to the price, and delivered without any added costs. Top notch service. Thank you again. Everything about your service and company is top notch. It far exceeded any of my expectations. No wonder Colt Manufacturing recommends sending Colt Pistols to YOU!"
MARK:  Colt Pre-Woodsman and Colt 1903 Pocket Hammerless Restoration   "Just received my two pistols last week and I can't tell you how happy I am, they are stunning! And I hope to do more business with you at a later time. I would recommend these folks who have any restoration work done. I see why Colt recommends them because their work is superior! Thank you so much."
BILL:  Colt Python California Combat Restoration   "Tell everyone that I received the Python today and it is so professionally done and packaged. I love it. It is awesome. Plus I received the colt letter yesterday to verify that it is truly a California Combat. It is a masterpiece!!!"
STEPHEN:  Colt Python Restoration  "To John and all of the capable staff employed at Custom Shop, Inc., let me start by saying a very heartfelt "Thank You" for the expertise, time, and professionalism I was afforded on my recent experience with your company. I trusted a very special firearm to John and his staff for restoration. What I sent to them was a very sick 1991 model Colt Python .357 magnum, 6 inch barrel, blue steel. This treasured family heirloom was in what I considered to be very poor condition. The cylinder, barrel, and side plate had significant rusting along with various scratches. When I spoke personally with John about the history of my Python and the condition it was in…John reassured me that he could restore the weapon to a condition that would be "like new". I received my restored Python this morning and I was completely blown away by the restored condition of this firearm. To say that it was restored to original factory condition would be a major understatement. My Python is above and beyond immaculate condition. It is absolutely much more than I could have hoped for. Everything that John promised he delivered. The price I was quoted was not one penny above what I paid. Every interaction I had with employees with Custom Shop Inc., was professional, honest, and most of all pleasant. I truly believe that there is no other company providing the services that John and his employees provide that can match or exceed his skill, work, quality and professionalism. I would not hesitate to recommend Custom Shop, Inc., to any and all that I meet. There are not enough adjectives to describe work that they do and how I feel about dealing with them. I am sure that John and his staff will be receiving more of my firearms for restoration. It has been a true pleasure and joy to have dealt with them. I am one happy camper!! Thank You!!"
THOMAS:  Colt SAA and Colt Python Restorations  "To everyone at Custom Shop, Inc, I'd like to thank you all for the wonderful work you did restoring my 1956 Colt SAA and my 1962 Colt Python, I was super excited to see how lovely they turned out…Thanks Again for the Fantastic work , they are basically new again."
MARK:  Website Purchase Experience  "I just wanted to send a Thank you in regards to the 1958 Marlin 39a that I purchased from your shop several weeks ago. This is the first time that I have ever purchased a gun on line before and I was a bit hesitant about the transaction especially with the gun being on consignment. I was Super Excited when my local gun shop called and said that it had arrived. The gun was in excellent condition (probably better than I expected) and performed well after I had a chance to try it out. Please tell Lou ( I think that's who I spoke to) thank you for talking to me over the phone. It's good to know there are still good, honest people in this world. Thanks again!"
RANDY:  Colt Anaconda Restoration  "Yesterday, I picked up my Anaconda from my FFL Just wanted to thank you and your staff for doing such a beautiful restoration job on my Anaconda. In the next few days, I will order a Colt Anaconda Blue case from your company to complete the set."
BETTY:  Consignment  "I wanted to write you a note of THANKS for helping my daughter and I sell my deceased husband's gun collection.  I have appreciated your honesty and professional handling of each piece sold with respect to our wishes!  It was a pleasure doing business with you."
WALTER:  Colt Python Restoration  "Thank You John, Louie and Crew. A double Wow! Everything was as advertised and as promised, even completed in less time than I expected. The restoration and workmanship was and/or is First Class. All of the Custom shop personnel were polite and professional in keeping me informed throughout the process. I would not hesitate to recommend your services and would refer anyone in a heartbeat. Keep up the good work"
FRANK:  Colt Anaconda, Trooper, and Official Police Restorations  "The Revolvers look outstanding. I wouldn't hesitate to recommend your shop for any custom revolver work. In fact, I have a friend with a python who may want his reblued in the near future and you can bet you will be my first and only recommendation. Truly Colt, or better, quality! Thanks again! Also, thank you for being accommodating with my being able to pay not all at once, or in full in one payment!"
DON: Colt Diamondback Nickel Restoration "I received the Diamondback today- it is spectacular. I really admire the craftsmanship. Thank you so much for the fine work!"
JOSE:  Colt Python Restoration  "I wrote to say thank you for the outstanding work and I couldn't be more pleased with my Python! I am mad that I can't shoot it now as I intended given how beautiful it is! For that matter I can't even check the trigger work you did for fear of making a cut line on the cylinder!  It was a pleasure… and any time you are in Dallas give me a call and I'll treat you to some wonderful food!"
JOSEPH:  Colt Python Restoration  "I received my 4" Colt Python back from Custom Shop, Inc., today and felt I needed to send you this note. Amazing… Incredible… are two words that come to mind immediately on what I saw. Several years ago, I mistakenly stored my prized Colt in a safe and didn't take it out to look at it for a couple years. When I finally did, what I found was a rusted and pitted piece of metal that was a shadow of its former beauty. Needless to say I was heartbroken. I removed the rust and tried to restore it to the best of my ability, but it was still in terrible shape. Even in the poor shape that it was in, it quality and ability to be point on for hitting the target was still in its foundation. My daughter who is also an avid shooter knew how upset I was and somehow found Custom Shop, spoke to you and sent my Python to you for restoration. While skeptical on what the end results were going to be given the damage, you were going to be that last chance to restore this Colt to its former beauty. What you sent back was nothing short of amazing. The craftsmanship and results turned this abused Colt back into its former beauty. It looks like it just came out of the box when I purchased it new, back in 1976. What an incredible job you did, I couldn't be happier… WOW… I would recommend your services to anyone who has a restoration project for any of their firearms. I can't Thank You enough for the great job you did!"           JOSEPH'S DAUGHTER : "Just following up to say we received the Colt, and were blown away by the results! I want to thank you so much for all the work you guys did, it really turned out better than we could have ever hoped. It was worth EVERY penny to see how happy it made my dad."
ADAM:  Browning Safari Rifle Restoration  "I can not thank you all enough for the amazing work done on the Browning Safari that belonged to my dad. The pictures you sent didn't do it justice. It probably didn't look that good new. It shines more than my brand new Browning Medallion. The turn around on that was insanely quick and it is flawless. I am unable to express how impressed and grateful I am to have had such amazing work done on something that means the world to me. My two brothers and my sister also thought everything was just amazing and they only have seen the pictures of everything. The photos with your personal messages on them really hit. Getting those before even seeing the rifle, I still got really emotional and I'm not even close to being ashamed to admit it. Pulling that rifle out of the case was more of the same. The sweatshirts I also purchased are really cool and will be worn proudly. Hopefully they draw you another customer or two. I could keep rambling but I am so glad I found Custom Shop Inc. You are all awesome and your work is amazing. Thank you for bringing this rifle back to life and helping out to build this into a legacy piece and have it be more than just something really cool that belonged to the ol' man. It had some adventures in its' day and they story must continue. Again, thank you so much! I love it!"
ALFREDO:  Colt Python Restoration  "I just arrived from vacation and I had a box waiting for me.  When I finally opened it I was taken by how my Colt Python turned out after restoration. I was looking at a true work of art and I was impressed on how much attention you guys gave to my revolver.  Like my Colt Diamondback you guys restored to a work of art, I knew my Colt Python would be returned to me with all of the same attention you gave my Diamondback.  Thank you and your crew for an excellent job.  I am a very happy return customer and will recommend Custom Shop Inc on Colt restorations.  Keep up your excellent customer service!"
RONNIE:  Colt Woodsman Restoration  "The gun looks great like a new gun bluing is factory grade.  The few people that I have showed which I limit could not believe the condition of the gun after restoration and I made sure they wore the gloves you provided.  I own several rifles, shotguns, AR's, and handguns.  I keep them looking like new.  I am proud to add this to my collection.  I will keep Custom Shop cards and recommend anyone about the work that is done."
WES:  Website Purchase Experience   "I drew a hand full of aces when I selected Custom Shop, Inc. From start to finish my purchasing experience with John and his staff was very positive. John and his crew were professional yet friendly at all times. The pistol purchased was exactly as described. Shipping was done flawlessly and customized due to problems at my end of the chain. The problems were handled with skill that can come only from many such tailored transactions. The pistol was wrapped securely which resulted in not only a timely delivery but one that insured the pistol was undamaged at this end. Thank you John. Please extend to your staff my thanks for their part in this transaction."
DAVIN:  Winchester Custom Stock Replacement  "I have been collecting pre-64 model 70's for 35 years and currently own 100's of model 70's. I can honestly say that I have never seen a more precise custom fit reproduction stock. I am a very scrupulous collector who prefers 100% rifles. With that said, this custom walnut super grade replacement stock is ridiculous, I love it. If it wasn't for the extreme high grade walnut blank you started with, the veteran most educated Winchester collector wouldn't know it from an original. It's honestly too well made to be from Winchester. This is hands down the fanciest, most accurate pre-64 model 70 super grade replacement stock that can be purchased at any price. Absolutely impeccable craftsmanship from butt to ebony forearm cap. I will be a repeat customer."
KERRY:  Colt 1903 Restoration  "Just got back from a long range fishing trip and saw the work that you had done on my 1903. I could not be happier with the outcome! Fantastic job!"
CURT:  Website Purchase Experience  "Received the rifle from my local dealer today. Just want to thank you for your professionalism. Rifle was certainly as advertised if not better. Packaging and paperwork were very professional and complete. Pleasure doing business."
JAMES:  Colt Python Repair & Restoration  "I looked over the work Custom Shop, Inc. performed on my Python yesterday upon receipt. My initial impression was the work was done well. However, I held off writing to you because I wanted the opportunity to look at the gun in the morning sunlight. I can find no imperfection in your work. I sent the gun out for a timing problem and ended up with a full restoration. I'm very satisfied that I did. The gun looks so beautiful I did not even want to cock the hammer to confirm the timing issue was resolved. I always intended on using the gun as a shooter but now put it into the category of a work of art. The finished product makes me consider how my old Colt Detective model would look restored. I am very satisfied with your work and will recommend your shop to others."
ALFREDO:  Colt Diamondback Restoration & Customer Service  "Ola, I just want to say Muchas Gracias.  I received my fully resorted Colt Diamondback (royal blue) today. When I opened the box and saw my toy I was taken on how beautiful my revolver looked after restoration.  What can I say, You Guys hit the Wow Factor – I was looking at a brand new Colt Diamondback.  The workmanship that went into my revolver 's restoration was above & beyond and the Royal Bluing polishing on the entire gun looks like a mirror. Thank you Mr John Williams for all of your assistance and excellent customer service along with everyone who worked on my revolver.  I am glad I called Colt they highly recommended me to get in contact with Custom Shop Inc.  I am happy I did and I will be boxing up my Colt python (Blue) and shipping it next.  I am confident my Python will be handled in the same way my Diamondback was.  I can not say enough positive things about Custom Shop Inc. & their customer service.  I will contact Colt Firearms and thank them for their recommendation and tell them how Happy I am.  Muchas Gracias"
LARRY:  Colt Python Nickel Restoration  "I want to thank you both for the fantastic job your employees did refinishing my Colt Python revolver. You exceeded all my expectations and more. No wonder Colt highly recommended your organization. You are the best and deserve all kudos possible."
GREG:  Consignments  "Hello, Wanted to say THANK YOU, for all your help with the consignment on my father's collection.  You made the process painless, professional and a win win for all.  Will be recommending your shop at every opportunity."
DENNIS:  Customer Service  "I really, really appreciate the truly amazing one on one customer service that Louie gave me on a very specific item. The package arrived earlier than expected. I opened the package and looked at all that was included in the case assembly. I was really amazed of the complete content. All exactly to the Colt Firearm website original content when this particular firearm was manufactured and shipped. I was way above astounded to the quality and condition of what Louie had sent me. Truly amazed. Thank you very much to Louie and to the Custom Shop. I have given out the Custom Shop info to all of my very serious gun collector friends and will continue to do so. Again, thank you very much Louie and the Custom Shop for the fantastic customer service, quality products, great pricing and the above and beyond helpful knowledgeable product information. You will be hearing from me soon on some other firearms that need some touching up, some complete restoration work and firearm sales and purchasing. You have a lifetime customer."
TOM:  Colt King Cobra Restoration  "I received my King Cobra today. Could you tell Louie that it looks awesome. It looks brand new! The people at my gun shop where I pick it up couldn't believe how nice it looks. They ask me if I had a few of your business cards so I passed them along. Again tell Louie that he did a outstanding job."
SHARON:  Customer Service  "Just wanted to say I am impressed beyond belief at how great your customer service is. I purchased a vintage Beeman R7 air rifle this week and received it this morning. It was packaged better than any gun I've ever bought, and everything you guy do just screams of professionalism. Thanks!"
ALFRED:  Colt Sauer Stock Replacement  "John, I have been trying to put into print my sincere appreciation of the art that Lou does when he creates replacement stocks such as mine for my Colt Sauer. When I first saw it in person I cried with happiness. I have shown it to all of my close friends and they too say only a few words of praise for the skill that it took to craft this beautiful product. Appreciation does not have to come with a lot of words. My heartfelt thanks to you, Lou and your entire company for making hunters like me smile every time we lay your beautiful, replacement rifle stocks in our laps while we look out into our world of hunting and we thank our country for the freedom to do so."
KONSTANTINE:  Colt Revolver Restorations  "I just wanted to let you guys know how impressed I am with the work your team did on my Colts. Not just with the finished work but the entire process. I was recommended to you guys through Colt when they told me that they weren't working on the double action revolvers anymore. I was honestly shocked and a little skeptical to reach out to other shops. I'm glad I found you guys. Lou you had me sold the first time we spoke. Your confidence on how impressed I would be with the finished product is what got me. I sent out a 2.5" King Cobra to be mirror polished and 2 Pythons for a barrel swap and reblue. When I got them back they looked like museum pieces. I have had work done at other shops and difference in the workmanship is night and day. I wouldn't recommend anyone else! Lou two thumbs up five stars A+ whatever you want to call it your team rocks! Thank you Theresa. Thank you John. Thank you Lou."
BYRON:  Colt Python Restoration  "I wanted to wait until after I was able to try out my beautifully restored Python to contact you.  Your company was recommended to me by the manufacturer, COLT FIREARMS, INC.  Their recommendation turned out to be very well founded.  You and your staff performed a superb job, and I recommend you and your company to anyone considering a firearms restoration.  Thank you again!"
SAM:  Rifle (Winchester Model 70 Pre-64) Restoration  "Wow!  You guys outdid yourselves.  Absolutely beautiful!  It now has the honored spot in the safe.  Thanks again!"
GARY:  Colt Anaconda and Pythons – Repair & Restoration  "Can't tell you how pleased I am with the work of Custom Shop. Impressive!"
MATTHEW:  Colt Python Restoration  "I'm very pleased with customshopinc service. My Colt Python looks brand new and action is Python like again. I almost don't want to shoot it Lol! These guys were also very good with the payment arrangements and left a nice note with all the paperwork thanking me for my military service. If my Python needs repairs or I get anymore I'll be using these guys again. I also will be checking out their shop for sure."
DAVE:  California Forest Fire Damaged (2 Colt Pythons & 1 Colt Diamondback) Restorations  "I am absolutely delighted with my Colt revolvers and amazed at the level of workmanship in their restoration; they look brand new! Please give Louie my sincere thanks for bringing my Colt revolvers back to new condition, he is a true artist in the world of gunsmiths. I don't want to touch them unless I am wearing the white gloves he provided! The letters of restoration were an unexpected surprise and a really nice touch that added to the high level of professionalism and customer service from the Custom Shop Inc. Someday I will take the Colts to the range and actually shoot them, however, for the time being, I am enjoying just looking at them."
JOE:  Colt King Cobra Restoration  "Just wanted to send you a quick note to say thanks for the work you did on my Colt King Cobra. The barrel installation is perfect and whatever you did to clear up the action problem it was having is pure magic. First time out with the repaired Colt I was able to put together groups that blew me away. Best group ever for me. Thanks again."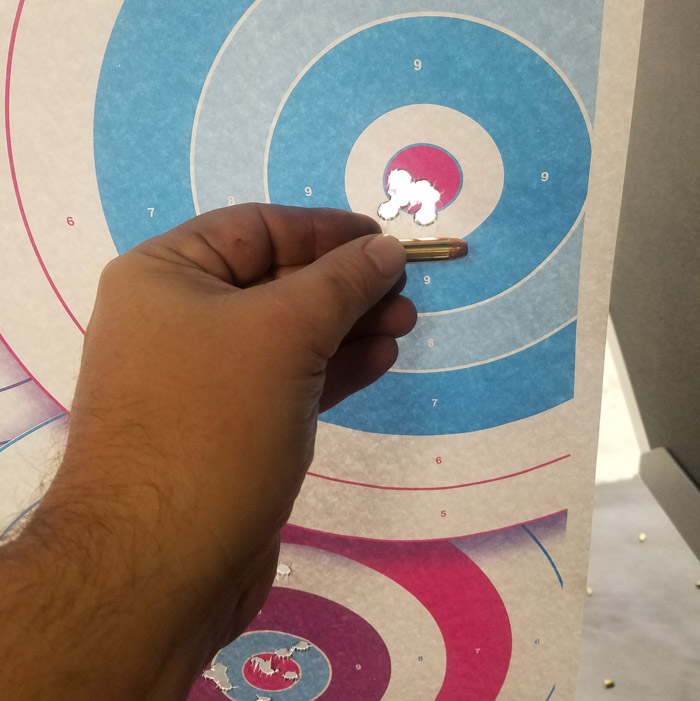 ALLAN:  Colt Trooper Restoration  "I just received my Colt Trooper MK III and what a masterpiece it has turned into. Unbelievable, Superb, museum quality. I could go on and on. I consider myself a perfectionist and when I bought this gun, on a gun website that I won't mention by name, it was misrepresented and every where I looked I found scratches, pitting and actual rust. You can't imagine the words that were coming out of my mouth. I was so ticked off that I put it in a drawer for a month and forgot about it. One day my wife asked where the gun was so I told her what was up and she suggested that I call Colt and get a quote for re-bluing and that she would pay for it and make it my Christmas present. I jumped at her suggestion only to be disappointed again when Colt told me that they no longer worked on Trooper MK III's but they did recommend the Custom Shop and that's when things really turned around. I spoke with John Williams first and he gave me all of the particulars and that's all it took. I shipped mu gun the next day! Once they received the gun Louie called and went over everything with me and sent out a very detailed invoice covering everything that they would be doing and gave me a price, to the penny, on how much it would cost. He promised me that it would look as good (well better) than the day it was originally shipped by Colt. This gun is now a true masterpiece in every sense of the word. I would like to thank everyone at the Custom Shop for making this a very pleasant experience starting with their communication to the fantastic work they did. I know this is a lengthy testimonial, but I just couldn't leave anything out. My parting words are that if you want one of your cherished firearms brought back to life again, send it to Louie and the gang. I PROMISE you won't be disappointed!!  I just wanted to let you know that I contacted Colt to let them know what a great job that you did on my Trooper.  They said that they have been getting nothing but good feedback about Custom Shop."
MICHAEL:  Rifle Restoration  "Considering this gun is 50+ years old it's quite a transformation.  My first deer rifle from my Dad in 1967…it looks incredibly beautiful and can't wait to get it!  Thanks for everything to Louie and everyone who had a hand in on the restoration of my Sako.  Absolutely beautiful!
ROB:  Rifle Restoration  "I thought I would send you a couple of pictures of a nice Texas whitetail deer which I was blessed to get recently down here with the beautiful Sako 75 Bolt Action Rifle in .270 Winchester caliber you restored for me. I am so proud of how this gun turned out and just love looking at it and especially getting it out for special occasions such as this.  I also think about all of you at the Custom Shop as well!  Thanks so much for such a GREAT JOB on this beautiful dream rifle."
MATT:  Colt Diamondback Restoration  "This Diamondback is one of the finest pieces I have ever held in my hand.  Thanks to Colt Mfg for referring me to your company for restoration.  You have turned this piece into a fine diamond!"
JOHN:  Consignment  "Just a quick note to thank you for all of your wonderful service selling the Browning Ducks Unlimited Shotgun for me.  I really appreciate all of your work and professionalism, and would not hesitate to recommend you to any gun owner needing your service, you guys Rock!!"
STEVE:  Colt Python Restoration  "I sent my Colt Python to get it reblued, when it came back I did not want to touch it Damn Great!! Louie is one of last true gunsmith's left. I will send all of my firearms to him. l feel that my Python is of museum quality. I would recommend all and anybody to this company. Super work and great service. What less can i say??? Super!  I called Colt and told them about my satisfaction and how my python is looking now. I told them that I would recommend your company to anyone who is wanting quality work done excuse that, I mean exceptional quality number 1 work to have done. Tell Louie I do appreciate his craftsmanship and attention to detail."
MATT: Website Purchase Experience  "Wanted to drop you a note, to say thank you for the entire process of purchasing a firearm from your site. Highlights I want to point out:  1. John at your shop is great to work with. I called, as I had never purchased a firearm online. John walked me through the purchase process (new firearm), as well as the FFL process, answered all my questions, and never once made me feel like I was bothering him or wasting his time. He even called me when my package was shipped out (in addition to the email I received), to keep me in the loop as to progress. Wonderful customer service from him.   2. Your website is super easy to navigate. Pictures of firearms are clear, descriptions are spot on and extremely helpful. I received exactly what your website promised me I'd receive, and I couldn't be happier.   3. Ship times are very quick, and your prices seem better than reasonable. Whether true or not, I firmly believe I got my Colt Government Model Comp. Series. 45 Auto. 5″ Nat. Match Barrel. Stainless Finish. New In Case, at a steal of a price!  All in all, I will highly recommend your shop to anyone that asks, and you have a returning customer in me as well, should you have any more items/services I'm looking for.  Thank you again."
DAVE:  Consignment  "As a fine gun enthusiast and hobby gunsmith for 50+ years, one day I found that my gun safe was bursting at the seams. It was time to trim back! But I dreaded the chore of trying to sell a large number of guns on-line by myself. That's when I contacted Lou Tuminaro at the Custom Shop. Over the course of a year or two I would deliver 5 or 10 fine guns at a time to the Custom Shop and Lou would sell them. Initially I winced at the idea of paying a sales commission. But frequently the sales price for one of my guns exceeded what I would have listed it for. It was not long before I realized I was making more than I anticipated from the sale of my guns regardless of the commission. In fact, Lou and his staff earn their commission. For example, the Custom Shop has an in-house professional photographer. Good pictures sell guns. Making accurate appraisals, skillfully answering questions from potential buyers, prepping guns to look their best for a buyer, and boxing and shipping guns is hard work. The Custom Shop has mastered it all. Finally, it is not possible to depart from a visit to the Custom Shop without a smile on your face. Lou, Theresa, and the staff at the Custom Shop are good people."
VAN:  Colt Python Restoration "Thank you for the work that your company did. I had planned to give feedback sooner, but I have been too busy showing it off to my friends at the range. They as I are very impressed… I am impressed. Thank You very much."
NICK:  Website & Customer Service  "Wanted to say that it was a pleasure talking with you today about the Colt Python that I was interested in— but was already sold.  And again I want to complement you — Your Website is an 'Outstanding example ' of great design with absolute ease to view and understand.  The photography is second to none — the Very Best that I have ever seen on any gun site.  Your place of business as shown is amazing. Wish I could visit in person."
GERALD:  Rifle Bolt Restoration "I am absolutely amazed at the job you guys did with that bolt.  It is beautiful.  I am so grateful I found the Custom Shop.  You guys will get all my work from now on and I am going to recommend y'all to all my friends down here in Louisiana. Thanks again for the GREAT WORK!!!"
CASEY:  Colt Python Restoration "What can I say? SUPERB JOB! And… It takes a lot to impress me. I'm severely O.C.D. Thanks for providing me with the astute white gloves, so that I could pull the hammer back one time to check the timing. I will be putting the original Gen I grips back on and placing it back into the box for long term storage. It's no longer just a shooter. It's back to it's 1957 condition and I couldn't believe it. I would like to say thanks to all who put work into this! What's everyone's name that had a hand on it and what was their job? I'd really like to know. Makes it a little more personal. I will definitely show this off with the "before" pictures. I had extreme reservations about the idea of getting this re-blued. I'm more than impressed and will try my best to send you more business. Thanks to all for treating my Python like it was their own."
MICHELE:  Colt Python Restoration   "We received the python today, and Oh what a smile you put on Ernie's face!! It couldn't have come at a better time as he needed a little cheering up. It is BEAUTIFUL and we are both so pleased. Thank-You so very very much. We will pass your name on to all our friends on the wonderful work that you do and how kind you have been. Thank-You again!"
TOM:  Colt Python Restoration  "I love how the Python turned out.  I will recommend your business anytime."
MANNY:  Colt Python Restoration  "I got my blued Python today. Pictures are one thing…but…DAY-UM-M-M-M-M-M-M…Louie's good! Thank you…you guys are INCREDIBLE !!!!!!!"
NATHAN:  Firearm Purchase  "Thanks for a quick, easy deal. The shooter was just as advertised, & everything I was looking for. I'm glad I discovered you guys. Thanks again!"
ISAAC:  Colt Python Restoration  "Just picked it up yesterday.  Positively stunning!"
ROB:  Rifle Restoration  "I just really wanted to drop you all a card to thank each of you for the "Fantastic" job you all did on the Sako 270 Rifle Project you did for me. The gun just turned out absolutely "FANTASTIC"! I am so happy about this gun & love looking at it. Thank you all very much and I look forward to doing some other gun collection/restoration projects with you in the very near future."
GREG:  Customer Service  "Thank You! You guys are efficient."
RUSTY:  Rifle Restoration  "Thank you very much for the work you did on my Pre-war, Model 70 Winchester, 300H&H. The new stock is great, the bluing outstanding and I couldn't believe that you finished the job as soon as you did. The only problem is that the rifle looks so nice (like new) and the workmanship so good, I don't know if I want to drag it around the mountains or Africa."
ROGER RULE (Author of the book, The Rifleman's Rifle):  Replacement Stock  "One day, I received a call from Louis Tuminaro, owner of The Custom Shop, Hamilton Montana, who invited me to do a guest appearance on his show, The GunFather, on the Outdoor Channel.  He told me he had begun to make replacement stocks in Super Grade for Winchester pre-64 Model 70s.  When I told him I needed a replacement Super Grade stock, he offered to make it if I would appear on his show.  Since it was a replacement and not original, I had him use genuine ebony for the tip and paid for the upgrade of exhibition-grade American walnut.  I first saw the completed stock, this one, when he unveiled it to me in live action during the filming of the Season 2 episode called "The devil is in the details".  The finished stock is amazing: the wood grain figure and color came out better than I expected.  The fancy feather crotch walnut would easily grade as Exhibition Grade.  When I examined the interior inletting of the stock, Tuminaro's work looks so close to Winchester's, that I asked him to put some kind of mark or brand in the stock on future ones so an expert can know they are made by Louie."