Business Hours
Monday-Friday from 8:00 am to 3:00 pm (Mountain Time)
NOTE: You can contact us at the above hours via telephone. All our Sales are made through our website. Our brick & mortar shop is not open to the public, but by appointment only.
IMPORTANT SAFETY RECALL NOTICE REGARDING CERTAIN COLT MODERN SPORTING RIFLES
I'm Having Problems Placing An Order On Your Website?
Because of the large size of our website, it is best to use a computer (instead of a phone or tablet) when placing an order.  If you are still having problems, please don't hesitate to contact us for assistance.
Do you charge a Shop Supplies Fee when billing for a Restoration/Repair job? Will I see this on my bill?
Yes, you will see a 'Shop Supplies Fee' on your final bill. Here at Custom Shop, Inc. we charge a shop supplies fee for all incidental materials used during our restoration/repair process. These materials include: cleaners and solvents, buffing compounds and sand paper, oils and lubricants, packing and shipping materials…etc. This is a standard fee of $25.00
What Methods Of Payment Do You Accept?
We accept most major credit cards (VISA, MASTERCARD and DISCOVER), certified funds, cashiers checks, money orders, or personal checks to Custom Shop, Inc. All Non-Credit Card Payments Must Be Received Within 7 Days, Or Product Will Be Put Back Up For Sale On Our Website. PayPal is accepted for non-firearm purchases. There will be a fee of 3.6% on all firearms purchased with a credit card. Credit card fee's charged to Custom Shop, Inc., (3.6%) are non-refundable on returns. Merchandise is held until your check clears (up to 10 days). Full payment of the purchase price is required before shipping. Prompt notification is required by telephone on any item to be returned. Notification must occur within 3 days of delivery to the FFL holder. All returned items must be returned in the same condition and packaging as they were received. All accepted returns are subject to a 15% re-stocking fee.
Do You Offer Layaway?
YES, we offer a Layaway Option on approved items. Consignment firearms are not eligible for Layaway. The Terms of our Layaway Program are: 1/3rd due as First Payment, 1/3rd due within 30 days of First Payment, and Final 1/3rd due within 60 days of First Payment. If the Layaway option is chosen, please adhere to the time allotted for your Layaway. If the payments are not made on time and/or the balance is not paid by the balance due date, we will put the item(s) back in stock which will result in the forfeiture of your First Payment and any subsequent payments made. Layaways forfeit the 3-Day Inspection. NO REFUNDS are given on Layaway items.
Do You Buy Guns?
Yes, we do. Please email us what you are wanting to sell (Make, Model, Accessories, Condition, etc.) along with photos and how much you are asking for them. Include your contact information too so we can get back to you.
Will You Sell My Gun Collection For Me?
We would be more than delighted to help sell them for you as part of our very popular Consignment program. We have dozens of consignors and hundreds of their firearms. We have a great reputation and a beautiful, professional website from which our customers come to purchase them. In addition to our website, we also post each consignment firearm on Guns International. Between these two website platforms, our guns definitely reach the masses. As you can see by the photographs on our website and Guns International site, ours look absolutely gorgeous and very high-end. This is because we have an in-house professional photographer who takes all of our photos. We thoroughly research each gun and post very professional, thorough, eye-catching ads. Please see our Terms And Conditions for details.
How Do I Purchase A Firearm Online?
First, make sure that the firearm you are wanting to purchase is legal to own in your state and that you are of legal age to purchase/own it. Then, to purchase it, please go to our website, add the gun(s) to your cart, and proceed to checkout. In the NOTES section at the bottom of the checkout page please write FFL and the phone number of the gun dealer that we will be shipping your gun to. We will contact them and acquire their Federal Firearms License so you don't have to. If you aren't sure who you are going to use yet, just leave the NOTES section blank and then sometime after checkout please let us know what dealer you will be using to do your FFL transfer.
If you have any problems, please don't hesitate to give us a call. We can easily walk you through the checkout process or even do it for you.
How Much Do You Charge For Shipping?
Shipping/Insurance charges vary depending on the item(s) you are purchasing. Once you add the product(s) to your Cart, it will show you these charges as well as the total.
How Will I Know If My Order Has Shipped And Will I Get A Tracking Number?
You will be emailed a tracking number automatically (from Stamps.com or UPS.com) once your order has shipped.
If you do not receive a tracking number by the next day, please check your SPAM email folder.  Please do not call us for order status.
I Called Colt And They Highly Recommended Your Company To Repair & Refinish My Handgun. Why?
We have been working with Colt for years. Our head gunsmith has even been trained by Colt and has passed those techniques and applications on to our other gunsmiths. We repair and restore Colt handguns every day and have for many years now. When we finish the restoration on your Colt, it will look absolutely beautiful, just like it did the day it came from the factory. That's why Colt has us do their restoration and repair work.
To see examples of our handgun restoration work, please look under our SERVICES Menu at our "Before & After" Handgun Gallery and Completed Handgun Galleries.
How Do I Ship My Gun To You For Repair And/Or Restoration?
Please look under our SERVICES Menu on "How To Send Us A Firearm". It will have a short Form to fill out. Below the Form are detailed instruction on how to Package your gun(s) and options for Shipping. Please Contact Us if you have questions or need assistance.
How Much Does It Cost To Have My Handgun Re-Blued?
The base price to polish and re-blue your handgun is $495.  What we can't determine until we thoroughly examine your gun, is the amount of time and associated cost to prepare the metal (hand sand and remove the scratches, pits, rust, dents, etc.,) prior to polishing and re-bluing the handgun.  Please send us your handgun so we can completely go over it and provide you with an exact price.  Once we receive your revolver and it gets to our head gunsmith's queue, we will prepare a Work Order detailing all the components of the restoration work with associated costs.  We will email it to you and follow up with a phone call from our gunsmith to discuss.  After we receive your written approval, we will get started on the restoration.  The turnaround is approximately 3-4 weeks.  You pay when the work is finished.  We accept credit cards, personal checks, cashier's checks, and money orders; whatever works best for you.
How Much Does It Cost To Have My Handgun Re-Nickeled?
The base price to strip the nickel and underlying copper plating, and re-nickel your handgun is $799.95.  Once we receive your revolver and it gets to our head gunsmith's queue, we will prepare a Work Order detailing all the components of the restoration work with associated costs.  We will email it to you and follow up with a phone call from our gunsmith to discuss.  After we receive your written approval, we will get started on the restoration.  In the event that we strip the nickel and underlying copper and find pitting, scratches, dents, etc., that need to be hand sanded out prior to re-nickeling, there will be additional metal preparation costs.  We will prepare a revised Work Order at that time in the event that additional metal preparation is needed. The turnaround is approximately 2-3 months.  You pay when the work is finished.  We accept credit cards, personal checks, cashier's checks, and money orders; whatever works best for you.
Do You Have Guns In Stock That Are NOT Listed On Your Site?
NO, all our firearms are promptly put on our website for sale.
I'm Looking At A Gun On Your Site That Shows It As "OUT OF STOCK". Is It Still Available To Purchase?
NO, it will show as OUT OF STOCK when it's being purchased by a customer. Once we receive payment and the gun is shipped, the ad for this gun will be deleted from our website.
Do You Have Gun Parts That Are NOT Listed On Your Site?
YES, we have many gun parts (including rare and 'hard to find' ones) that are not shown on our website. If you do not see what you are looking for, please Contact Us and we'll check for you.
Do You Provide Appraisals?
No, we are not licensed to do firearm appraisals.
What Is Your Return Policy?
NO Returns or Exchanges on Parts.
It is the buyer's responsibility to inspect their firearm purchase, following these conditions:
DO NOT REMOVE THE FIREARM from receiving FFL before inspection is completed and firearm is accepted. Inspection must be done on the premises of the receiving FFL.
ALL FIREARMS TAKEN IN AS CONSIGNMENTS AND SOLD AS CONSIGNMENTS ARE SOLD AS IS, WITH NO REFUND.
WE PROVIDE A 3-DAY WINDOW on NON-CONSIGNMENT Firearms, starting at the DATE OF DELIVERY to the receiving FFL, to complete a reasonable inspection and notify us of any issues.
DO NOT DISASSEMBLE THE FIREARM.
If the firearm is DAMAGED DURING SHIPPING, please take photos of the shipping box and damages. Email notice of damages to us with attached photos to Info@CustomShopInc.com and call us at 406-375-5126.
IF THE FIREARM IS DAMAGED DURING SHIPPING or NOT AS DESCRIBED IN OUR ADVERTISEMENT, DO NOT COMPLETE TRANSFER and NOTIFY US at 406-375-5126. Promptly return the item in it's original packaging to:
CUSTOM SHOP, INC
169 S. 2ND STREET
HAMILTON, MT 59840
WE DO NOT REIMBURSE RETURN SHIPPING OR CREDIT CARD FEES. THERE IS A 15% RESTOCKING FEE ON RETURNED ITEMS.
I Just Received My New Gun. It Looks Used, As If It's Been Fired. What's Up?
Many new firearms are test fired at the factory. You may notice residual powder, rotation marks on revolver cylinders, residual cosmoline which sometimes appears to look like rust, etc. All firearms sold as "NEW" are in fact new in box as received from the manufacturer and include new manufacturers warranty….no exceptions.
Care And Cleaning Of Collectible Colts?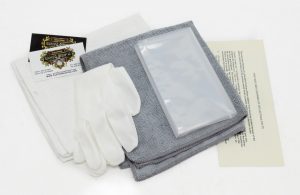 Every Client Who Gets A Firearm Restored By Custom Shop Inc. Receives A Special Gun Cleaning Kit Consisting Of:
Heavy Tooth Terry Cloth Towel
Micro Fiber Towel
Heavy Mil Plastic Storage Sleeve
White Inspection Gloves
Colt Recommended Collectible Gun Care Guide
Will Your Recoil Pad Fit My Stock?
All Recoil Pads must be fitted and shaped by a gunsmith.
I Just Purchased A Rifle Bolt From You. Can I Put It Right In My Rifle And Fire It?
No, rifle bolts need to be head space tested in your rifle by a gunsmith to ensure they are safe to shoot.
Colt 2020 Python Grips
All I-Frame Colt grips (any year) will fit the new Colt 2020 Pythons.
Colt Python Grip Pins
Our grip pins will fit all Colt Python frames. We have them in "Blue" and "All" Finishes. "All Finishes" can either be re-blued or used for Stainless frames. Due to manufacturers production variances over the 30-yr production period, we have over-sized these pins to accommodate any differences. They can easily be fitted by a competent gunsmith. If you have a micrometer, please send us the exact measurements via email or include the measurements during Check-Out.
Polishing Glaze Instructions
SHAKE WELL PRIOR TO USE.  MAKE SURE IT IS THOROUGHLY MIXED (ESPECIALLY THE BEIGE BOTTLE).

BEIGE BOTTLE
Compound – Used For Heavy Scratches
Use Small Amount – Rub On With Circular Motion – Buff Clean
**DO NOT RUB TOO MUCH/TOO LONG – THIS CAN BURN THROUGH THE CLEAR COAT**
BLACK BOTTLE
Polishing Glaze – Used For Light Scratches; High Luster
WHITE BOTTLE
Final Application – Ultra Luster
TERRY CLOTH
Use To Apply Glaze
YELLOW MICROFIBER CLOTH
Use To Polish
Silver Nitrate Salt Checker Solution
Custom Shop Specialties Salt Checker Nitrate Solution Designed For Use In Our Gun Shop. Custom Shop Specialties Salt Checker Nitrate Solution Is Formulated To Indicate SALT. Don't Ever Guess If That Belgium Browning Olympian, Medallion, Safari, Superposed, BAR, Auto 5, A 5, T-Bolt, Or Any Other Gun From The Salt Wood Era Is A Salty Dog!.. Use That 3-Day Inspection To Your Advantage And Test That Gun For Salt. Don't Lay Out Thousands Of Dollars For One Of The Best Firearms Ever Made To Find Out It Is Worth Half Of What You Paid. Carry It To Your Gun Shows And Test That Firearm Right There. Custom Formulated From One Of The Most Experienced Gunsmiths In Montana. This Product Will Save You Thousands. Used By Many Of The Members Of The Browning Collectors Association. This Is A Must Have Product.
TO USE:  Simply Apply A Drop Or Two To Raw Wood Or Metal And If It Foams (Turns White), You've Got Salt. You May Need To Remove The Action Or Another Part In Order To Access An Area Of The Stock To Test That Will Be Inconspicuous. Don't Be Afraid To Scrape Off Some Of The Wood To Attain  More Accurate Test Results.
NOTE:  This Solution Lasts One Year From Date Of Purchase.
Sako Scope Mount Charts