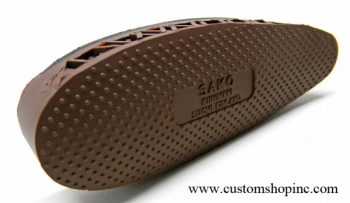 Sako Factory Recoil Pad For Vintage Sako Rifles. New
$129.95
In stock
Description
ATTENTION ALL VINTAGE SAKO RIFLE OWNERS!!
New Factory Sako Recoil Pads. Fits L61R, L579, L57, L461, L46, AI, AII, AIII.
Let our Master Stock Builders return your pride and joy to it's Finest.  For $249.95 plus shipping we will carefully remove your old, crushed pad and expertly mount and shape one of our New Sako Recoil Pads to your 'classic' rifle.
Fits all Sako Deluxe, Sako Finnbear, Sako Forester, Sako Vixen.
If you prefer, we will send you a New Sako Recoil Pad for $129.95 plus $7.00 shipping.
NOTE:  All Recoil Pads must be fitted and shaped by a gunsmith.