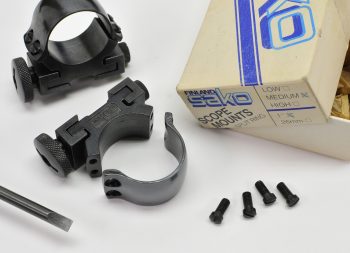 Sako Screws For Vintage LATE Sako Split Ring Scope Mounts. NEW
$29.95
In stock
Description
Sako Screws For Vintage LATE Sako Split Ring Scope Mounts. NEW
Change Out Those Old Buggered Scope Mount Screws On Your Classic Sako! These Are Identical To The Original. Don't Settle For Hex Heads!
SAKO L46, L461, L57, L579, L61R, AI, AII, AIII, SAKO STANDARD, SAKO DELUXE, SAKO VIXEN, SAKO FORESTER, SAKO FINNBEAR, SAKO FINNWOLF.
$29.95 FOR SET OF 8.
NEW PRODUCTION EXACT DUPLICATES OF ORIGINAL SAKO FACTORY DESIGN CORRECT THREADS, CORRECT SLOT M3.5×0.6x6MM DIMENSIONS DEEP BLUE FINISH FLAT SLOT. SET OF 8, FILLISTER HEAD.   NO COMBINED SHIPPING
$4.95 1ST CLASS SHIPPING
BEFORE YOU PURCHASE:  Please review your Sako Split Ring Scope Mounts with the Scope Mount photos in this add to determine what version you need (LATE or EARLY).  We also sell screws for EARLY model mounts.